love yourself and be your own.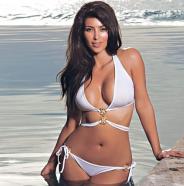 Full Name:
Kimberly Noel Kardashian
Birthplace:
Los Angeles, California


Age: 29
Birthday:

October 21, 1980



Rating: 8.6 / 10
Pictures

Videos

Related Stars
Kim Kardashian

Bio
Kim Kardashian is the ex-girlfriend of Nick Cannon, Reggie Bush and Ray J. She had intercourse on camera with the former, which is what made Kim a celebrity gossip favorite.
She stars in Keeping Up with the Kardashians. This ridiculous reality show has been on for two seasons and is centered around Kim and her attention-starved family, which includes former Olympian Bruce Jenner and an assortment of sisters with first names that begin with the letter K.
It's hard to say what makes Kim so popular, but you gotta admire how she's mastered the celebrity gossip game. Kardashian makes millions a year by simply appearing at clubs and blogging about random parties. She must love capitalism.
Kardashian had been seriously dating NFL star Reggie Bush for years. Following rumors of an engagement, the pair broke up in July 2009, only to get back together about a month later. And then break up again. She was then linked to wide receiver Miles Austin.
She appeared on season seven of Dancing with the Stars, partnered with Mark Ballas... and didn't do very well. In closing, Kim and her sisters own a clothing store. It's called "Dash" and they like to pretend as though they actually play a role in its daily operations.
Gossip
Kim Kardashian: Koast-to-Koast Birthday Celebrations! (10/15/2010)
Kim Kardashian celebrates her birthday next week. But it's never too early to get one's party on, is it?
Kim Kardashian to Gay Youth: It Gets Better(10/13/2010)
Kim Kardashian sends a positive message to gay youths in this video. We wish she wouldn't try to relate to their pain, but, hey, the sentiment is at least in the right place.
Kim Kardashian W Magazine Interview: I'm So Mature! (10/12/2010)

Kim Kardashian says she has grown up a lot over the last couple years. She's gone about proving that by taking off all her clothes in the latest issue of W Magazine.
Hollywood Masti Masala